WELCOME TO MY PROFILE!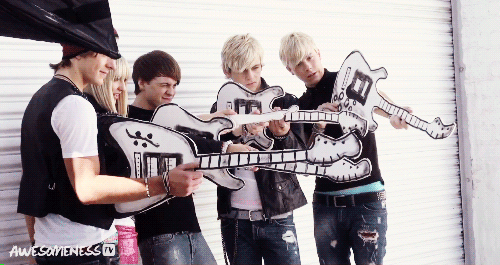 Scroll down to read more about me...
About Me
My name is Dechel-Auslly-Flyna, but you guys can just call me Jessica or Jess. I'm currently 18 years old and I live in Sydney, Australia. My hobbies include watching television, browsing the internet, listening to music and writing fiction. I am not a huge fan of large paragraphs of text, so I'm going to leave it at that.
R5, R5 and More R5!
Obviously if I'm an administrator on an R5 wiki, it means that I am a huge fan of them, right? Wrong. I hate R5. To me they're just some untalented piece of trash who are only famous because of Austin & Ally. Just kidding! I do not see R5 as this at all. They are much more than a band to me... and it's not just because I think Ross is pretty.
When Did I Become an R5er?
I found out about R5 in October 2012, when I received the Austin & Ally Soundtrack for my 13th birthday. At the time, I only cared about the A&A songs, so I never listened to the two R5 songs. I did eventually find myself listening to them, however I did not know much about them at this stage (I really only knew Ross, Riker and kind of Rydel).
In February 2013, I was given an assignment in music where I got to research any singer/band I wanted. Being the Ross girl that I was (still am btw), I chose him to do my assignment on. This is when I found out more about R5. I remember receiving the assignment a couple of days before the Loud EP was released, which I hadn't listened to until months later. Ross Lynch and Laura Marano also came to my country [Australia] at the same time.
I remember listening to Loud several months after its release and falling in love with it. And when I started to listen to the whole EP, I knew that my life was going to change forever.
I'd say that I have been a fan of Ross since 2012 and the rest of R5 since 2013. However, I'd say that I have been an R5er since 2014, when the Heart Made Up on You EP was released. This was the first EP/album that I purchased at the time of its release (I didn't receive Louder until my 15th birthday in 2014).
What I Love About About R5
To me, R5 are extremely underrated. Saying that I just "love" them is a complete understatement. These guys are my whole world. Not only do they [especially Ross] have the looks of a hot young band nailed, but they have everything I could love in a band: talent, catchy songs, amazing personalities... the list goes on. As I mentioned before, these guys mean the absolute world to me, and I wish that they could receive more recognition.
My Favourite R5...
Member: Ross
Song: If
Music Video: Smile
Album: Sometime Last Night
Extended Play: New Addictions
R5 Songs: Best to Worst
I love every R5 song released. I do not hate nor dislike any song whatsoever. However there are songs that stand out more than others in terms of quality, sound, lyrics, tempo etc. The following lists are MY preferences, based on my personal opinion. You may disagree.
To make it much easier, I have put songs in order by EP, album or single release. Please note that there are a few songs that I haven't properly listened to, so I can't rank them anywhere.
Ready Set Rock! (EP)
Loud (EP)
Louder
Heart Made Up on You (EP)
Sometime Last Night
New Addictions (EP)
Trivia
Here are some fun facts about me!
Besides R5, I am a huge fan of twenty øne piløts and Little Mix. I really like Ed Sheeran as well.
I am a huge fan of the TV series Friends and How I Met Your Mother.
I've recently gotten hooked on the TV series Wentworth and 13 Reasons Why.
Some of my favourite actors/singers include Bridgit Mendler, Chloë Grace Moretz, Sierra McCormick and Zachary Gordon. All but Chloë has replied to me on Twitter at least once.
I have an identical twin sister in real life, who also uses Fandom. She is my best friend.
I'd love to get a career in Information Technology after I finish school this September. If not, I'd love to get a career in psychology (even though that can be difficult).
I joined Fandom (previously Wikia) in June 2012 as the name Wildsidefan77. I signed up on the Jessie Wiki.
My username is derived from three pairing names: Dechel (Dean and Rachel) from WildSide, my fictional TV show, Auslly (Austin and Ally) from Austin & Ally, and Flyna (Fletcher and Chyna) from A.N.T. Farm. I shipped these pairings at the time I changed my name (March 2013). Really besides Dechel, I do not ship these anymore.
Community content is available under
CC-BY-SA
unless otherwise noted.